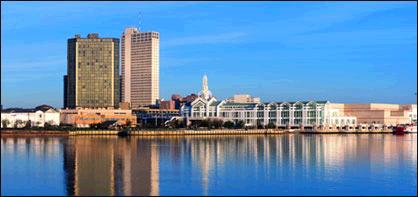 There are few cities in this country that can boast the growth, or attractions offered by our fair city.
A great place to live...
Mobile's quality of Life won the 74th spot in Money Magazine's "100 Best Places to Live" annual survey in 1997.
U.S. News and World Report ranked Mobile in the top third of the nation's hottest housing markets.
Mobile is a regional center for medical care, research and education. There are 850 physicians and 175 dentists practicing in the area, many affiliated with one or more of nine hospitals which serve the Mobile area.
A great place to work...
Ranked with such cities as Atlanta, Dallas, and Raleigh, Mobile tied with Fort Lauderdale for the No. 11 spot in Time Magazine's 1997 list of :Where the Jobs Are/15 of the Hottest Places."
A great place to play...
Tourism is on the rise in the Mobile area, where popular sites such as Bellingrath Gardens and Battleship Park are being joined by a growing list of cultural attractions.
More than 20 private and public golf courses helped Mobile birdie the No. 10 spot in Golf Digest's "Best Places to Golf."
The Exploreum and IMAX Theater and an expanded Museum of Mobile are only two of the projects underway to draw tourists attention to downtown Mobile.
A great place to grow a business...
Entrepreneur Magazine ranked Mobile fourth in the Southeast for its excellent small business climate.
With the world's largest forest products terminal, the Port of Mobile ranks 1st in the nation for wood pulp exports and 2nd in the nation for forest products.
From 1980 to 1990, Mobile metropolitan area grew 7.5 percent. The U.S. Census Bureau now estimates the area's population has topped the 500,000 mark.
Airplane maintenance and repair are growing businesses in the Mobile area where a number of aerospace companies are soaring to success.
The McDuffie Coal Terminal at the Alabama State Docks is one of the nation's leading facilities for coal exporting.
And a great place for education...
In 1996 and 1997, more than 900 area classrooms were wired for Internet access. Net Day Mobile, a community initiative sponsored by BellSouth, involved 1,693 volunteers who contributed 9,994 hours at 89 local public and private schools. The entire project has been valued at $ 576,500.
Mobile is the home of the state's oldest and largest public school system and its oldest institute of higher education, Mobile offers a wide variety of educational opportunities.
The public school system includes 90 schools and more than 65,000 students. Mobile also has a large parochial school system operated by the Catholic Archdiocese of Mobile and many other schools operated through churches and private boards.